LUCKYCHARM YOGI BEAR  "Yogi" continues to deliver the promise he showed at the ACKCSC National Specialty in 2014.  This year, at the 2015 ACKCSC National Specialty in Asheville, NC, Yogi was selected as First in Open Black and Tan Class under renowned English Breeder/Judge Mr. Kevan Berry of Ricksbury Cavaliers.  This wonderful placement repeated during the Blue Ridge CKCSC Regional Specialty two days later when respected judge,  Ms Elaine Lessig placed him First in Open Black and Tan Class and pulled him for special recognition in a very strong Winner's Dog Class.  She said, "wait until  next year, he just needs another year of maturity, he has all the right stuff already."

Yogi finished his AKC title at the 2016 Electric City Kennel Club All Breed Show.  We were thrilled that he was chosen BOW on both days to capture the cross over 4 point major each day.  Thank you  to AKC Judges Mrs Ann Hearn, and Mrs Loraine Boutwell for the placements to finish his title.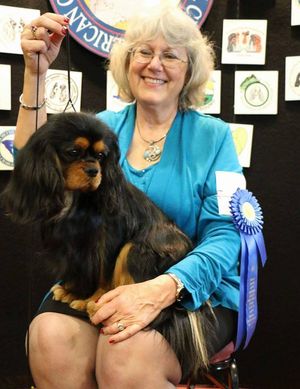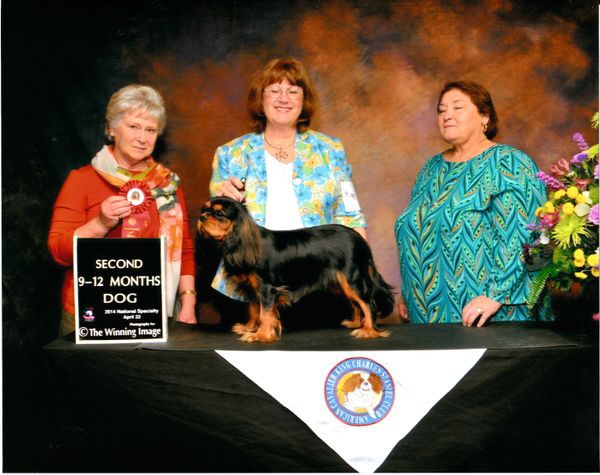 CH LUCKYCHARM YOGI BEAR CD BN RN CGA CGU TKI

B: 7-12-2013

Prior to his show career debut Yogi completed 8 week  Puppy Training Class with The Great Falls Dog Training Club.  He demonstrated all the wonderful qualities of Cavaliers, being the center of attention most of the time, showering kisses on his classmates and their owners.  He even showed exceptional potential for the Agility World, taking on all of the puppy size agility equipment, fearlessly and with great enthusiasm.  Maybe he will follow in his sire's footsteps in the Agility ring at some point in the future.   While at the 2014 ACKCSC National we had the opportunity to test for AKC Canine Good Citizen title.  Yogi passed all 10 required tasks with flying colors and earned his first AKC title.   

Shown very few times in 2015, Yogi continued to impress, finishing his AKC CH title on home turf at Electric City Kennel Club All Breed show 2016. 

Not just another "pretty face", Yogi has such a willing attitude, we continued to train for competition  in Obedience and Rally.  Todate, Yogi has earned his Companion Dog Title, and Rally Novice Title, We will continue to pursue more advanced Rally titles in 2018.  Meanwhile, just for fun, Yogi demonstrated how smart he is by passing the reequirements for the new AKC title,, Trick Dog Novice.  
In 2017/2018, in addition to all of his other accomplishments, Yogi has now broadened his interest into Therapy Dog work.  He is a weekly visitor at a local Nursing Home.  He has brought a lot of joy to the residents who love his visits..  He is such a wonderful embodiment of the true nature of his breed, Cavalier King Charles Spaniels, bred for over 400 years to be "comforter spaniels".  He also is a welcome regular visitor at a local Rehabilitation Unit of one of our hospitals.  We recently added visits to the Great Falls Public Library, Pre-School Program.  At this time, we have been asked to also visit some specific classrooms at local elementary school, we are waiting on official approval to begin these visits.  We are in the process of being officially certified by The Alliance of Therapy Dogs.  Once this is completed we will submit records of our visits to AKC toward the award of the AKC Therapy Dog title. 
---


CHIC # 108976

Eye Exam  Normal as of 9/19/2017
Cardiac Exam Normal as of 6/24/2017
Patella Exam Normal as of 9/29/2015
Hips as of 9/28/2015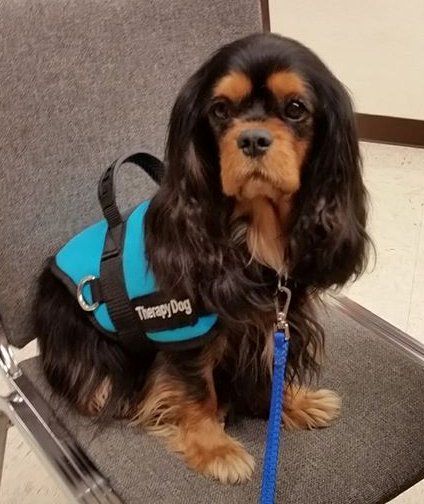 Am/ Can Ch Loranka Igglepiggle

Loranka's Bewitching Dance

Toraylac Bewitched for Loranka

Can Ch Dawnaquinn Golden Dragon RA

Can CH Coralaw's Wishes 'N' Dreams

Coralaw Indecent Proposal

Can CH Cambridge Jack Daniels

Rimescharm Romantica at Loranka

CH Nordictouch First Lady at Luckycharm